My first peanut in 3 or 6 steps is an easy and structured way for parents who are a bit scared about introducing peanuts. I would recommend this product.
My first peanut follow-up kit is easy to dose, you know for sure that you give the right amount and it is easy to mix. I would recommend this product.
We gave Timo my first peanut in 3 steps and it was a success. Now we give him the follow-up kit every week. The product is easy to use and has a clear description of how and when to give it. We are very happy with this tool to reduce the risk of food allergies and we certainly recommend it to other parents.
I discovered Vini Mini on the 9-month fair. At that time, my daughter was still too young...but as soon as she was ready for it, I ordered Vini Mini! It is a top product!
Giving peanuts for the first time in 3 or 6 Steps
Based on scientific research we developed my first peanut in 3 and 6 steps. These products contain the right dosage of peanut flour to give to your baby for the first time. This way you can safely introduce peanuts to your Mini.
Always do the Vini Mini test to see which product best suits your Mini.
My First Follow-up Kit to keep giving allergens
If your Mini went through our my first peanut or nuts in 3 or 6 steps without any problems, it is important to continue to give allergens weekly. For this, you can use our my first Follow-up kit.
Our Follow-up Kit contains 100% peanut and/or nut flour and a measuring spoon makes it easy to administer the correct dose every week and add to the meal of your Mini.
Before you buy our products, always take the Vini Mini test.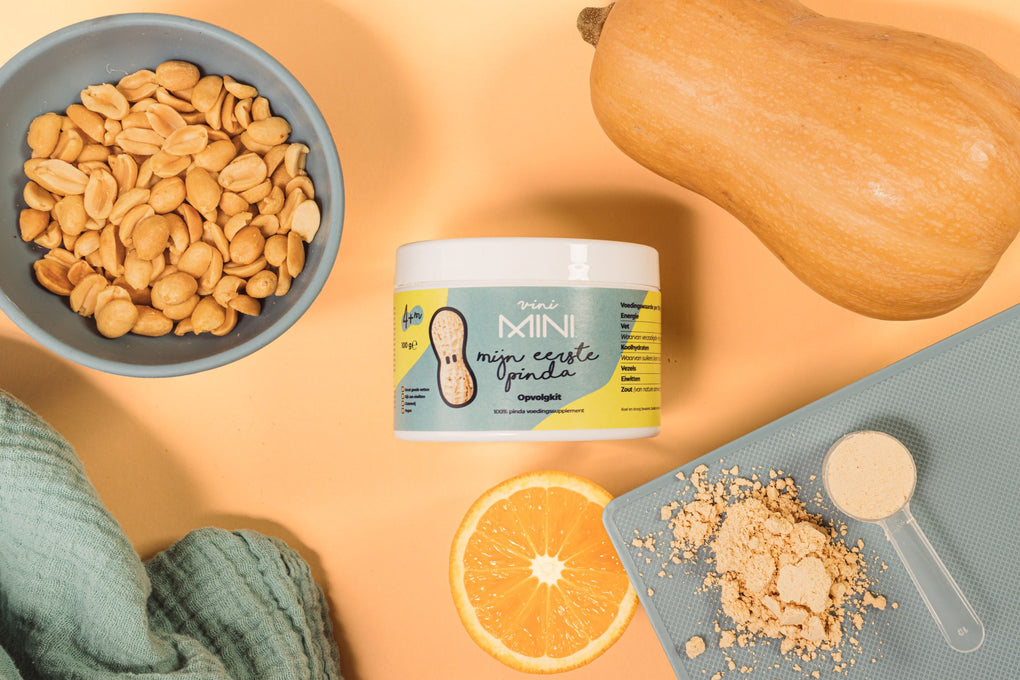 My first peanut Flips
Next to our Follow-up Kit we offer peanut flips: the easy & healthy snack for your Mini!
Also older children love this snack! The flips are made of peanut & corn. Enjoy!!
Reduce the risk of a food allergy in your baby
Research shows that you can reduce the chance of a peanut and egg allergy by 80% by feeding your baby peanuts and egg early and often. Doctors and the Nutrition Center recommend giving peanuts and eggs before the age of 6 or 8 months. Our healthy, convenient, and safe nutritional supplements will help you give and keep giving peanuts. Breastfeeding is the most important food for your baby for the first 6 months.
What medical experts say
NRC 2019: "In the past, the advice was not to give young children peanuts and eggs. Now we know that we can prevent a large part of the allergies, precisely by giving babies peanuts and eggs from a very young age and continue to do so consistently"
"Prevention is better than cure, early introduction of food allergens can help to prevent food allergies!"
Nutrition & Vision: "It is becoming increasingly clear that allergies can be prevented. It would very well be possible that the peanut clinic will develop into a prevention clinic for more allergens in the future."
For Your Mini and Another Mini
We believe EVERY Mini deserves the same chance for a healthy & happy start in life. Buy for your Mini and give to another Mini! 10% of our proceeds is reserved for parents who have less to spend.