Mijn eerste Hazelnoot MIDI Pack 3-staps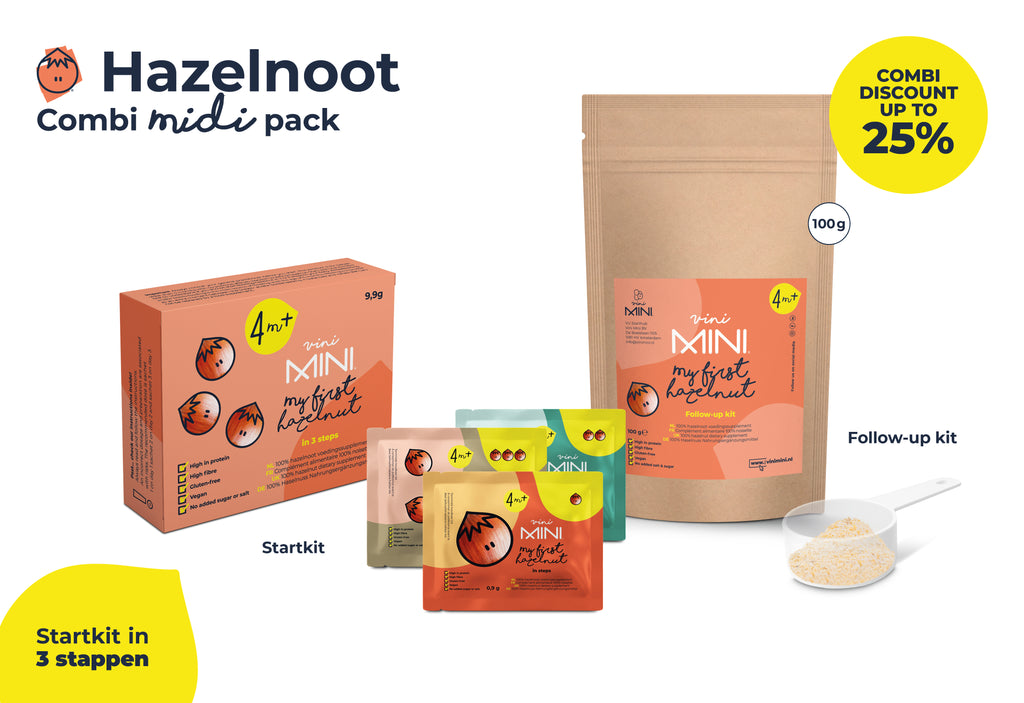 Mijn eerste Hazelnoot MIDI Pack 3-staps
Voordat je start met het geven van hazelnoot, doe altijd eerst onze Vini Mini test!

Koop gelijk het hele pakket en krijg korting + ga gelijk door met het geven van hazelnoot!
In dit combipakket zit:
1. mijn eerste hazelnoot in 3 stappen waarbij je in 3 opbouwende hoeveelheden voor het eerst hazelnoot geeft aan jouw Mini.
2. de mijn eerste hazelnoot Opvolgkit, waarmee je, als je alle stappen goed doorlopen hebt, vervolgens wekelijks hazelnoot kunt blijven geven.
Het product is:
Makkelijk: hoog in eiwit, waardoor je een kleine hoeveelheid kunt geven
Gezond: bevat geen toegevoegd zout of suiker
Betrouwbaar: de afgemeten hoeveelheid afgestemd zodat je ooit te veel of te weinig geeft.
Dit product is gemaakt van 100% hazelnootmeel.* Het poeder is gemakkelijk te mengen met je groente- en fruithapjes.**
*Als je Mini de diagnose pinda/noten-allergie heeft gekregen of je vermoedt een allergie dan kan je onze producten niet aan hem of haar geven zonder overleg te hebben gehad met de behandelend arts of het consultatiebureau.
* *Tot de leeftijd van 6 maanden is borstvoeding de belangrijkste voeding en zijn de eerste hapjes uitsluitend bedoeld als extra moment tussen de borst- en flesvoeding in. Overleg voor je begint altijd met de behandelend arts of het consultatiebureau.


Ingrediënten: HAZELNOOTmeel